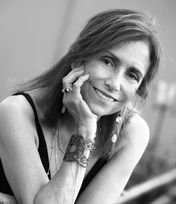 Marilyn Suriani has been making impressive photographs for 38 years. Her career has produced highly coveted fine art, world class portraits and stunning documentaries. Her work can be found in the permanent collections of museums, corporations, private individuals, and in high profile public spaces world wide.
Suriani was commissioned to produce a permanent installation for the 1996 Olympics, "Southern Trinities", depicting life in the south using 4 mixed media tryptics @ 4' x 12' each, in Atlanta's Hartsfield-Jackson International Airport, Gate E-17. Fast forward to 2014 and the largest original photograph on glass in Atlanta, "Liquid Emerald", a water image at 10'x 28' is installed in the valet lobby of Capital City Plaza at 3350 Peachtree Rd NE in Buckhead. In 2016 another large installation was commissioned in Las Vegas in a newly renovated luxury condominium high rise, "Waterway", using three large water photos mounted on acrylic equalling 54 linear feet in the lobby corridor.
Suriani has been awarded numerous grants to produce her many documentary studies, including the poignant and inspirational Storefront Churches project featuring small urban congregations. Some of these images are in the permanent collection of the High Museum of Art. Her Women in Prison documentary focuses on the women and their lives inside. A thirty year study of South Philadelphia is the subject of Suriani's roots and Self Portrait, an ongoing project, documents Suriani's life after fifty, examining gender, aging, identity and grace.
Dancing Naked in the Material World, Suriani's in-depth study of exotic dancers, received unanimous praise by critics, the Philadelphia Inquirer calling it "fine urban anthropology". The book and a New York City gallery exhibit resulted in numerous radio and print interviews and reviews, and a TV show dedicated to her book on Sally Jesse Raphael. Images from this work were displayed in the Deep South exhibition at the International Festival of Arles, France, curated by Gilles Mora, with the work of such notables as Eudora Welty, William Christenberry and Bruce Davidson.
Suriani was chosen as an artist-in-residence at the L'Ecole Nationale de la Photographie in Arles, France and has been honored by the governor of Georgia for her 'significant contributions to the visual arts'. Her work continues to be highlighted in national and international magazines, including Photo Vogue, Black and White, Camera Arts, Zeit, Moda, Cliche, Coda Worx, Behind The Shutter, and Vegas Magazine.
Suriani is continuing her work depicting the lyrical and temporal qualities of light and water, especially at larger sizes. Based on her first large installation using mixed media, she is interested in combining photography with a variety of techniques as she moves forward. She is also embarking on a retrospective of her documentary work, including work never seen, in the south and Atlanta beginning in the 1970's and 1980's