Dancing Naked in the Material World, Marilyn Suriani's photo documentary of Atlanta-area exotic dancers, was published in 1992 by Prometheus Press to unanimous praise, the Philadelphia Inquirer calling it "fine, urban anthropology."
Suriani went "under cover"as a waitress in one of the clubs in Atlanta, Ga. while preparing for her book. Working with and interviewing the dancers enabled her to better understand their diverse and complex lives. She witnessed first-hand the strippers' working environment, the people met there, and the relation-ships between the women.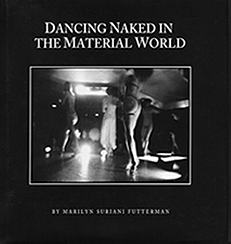 "Men go to these clubs seeking fantasy for a dollar with no threat of intimacy. The women achieve a kind of emotional fulfillment that is remarkably harder to find outside the doors of the club. Dancing Naked's poignant depiction of this odd social contract is important cultural history, vivid autobiography and beautiful photography."
Prometheus Press
An interview with Marilyn about the development of the project, Dancing Naked in the Material World, and the book production appears in How to Publish Your Own Photography Book, by Laurie Shock, Shock Design Books, 2012.